Divergent is building a leading portfolio of solutions which offer significant value to our healthcare clients.  Our solutions are simple, safe and secure, enabling healthcare professionals to deliver quality patient care in a secure and safe environment for patients in their care.  We deliver innovative products and services to market faster and at a lower cost.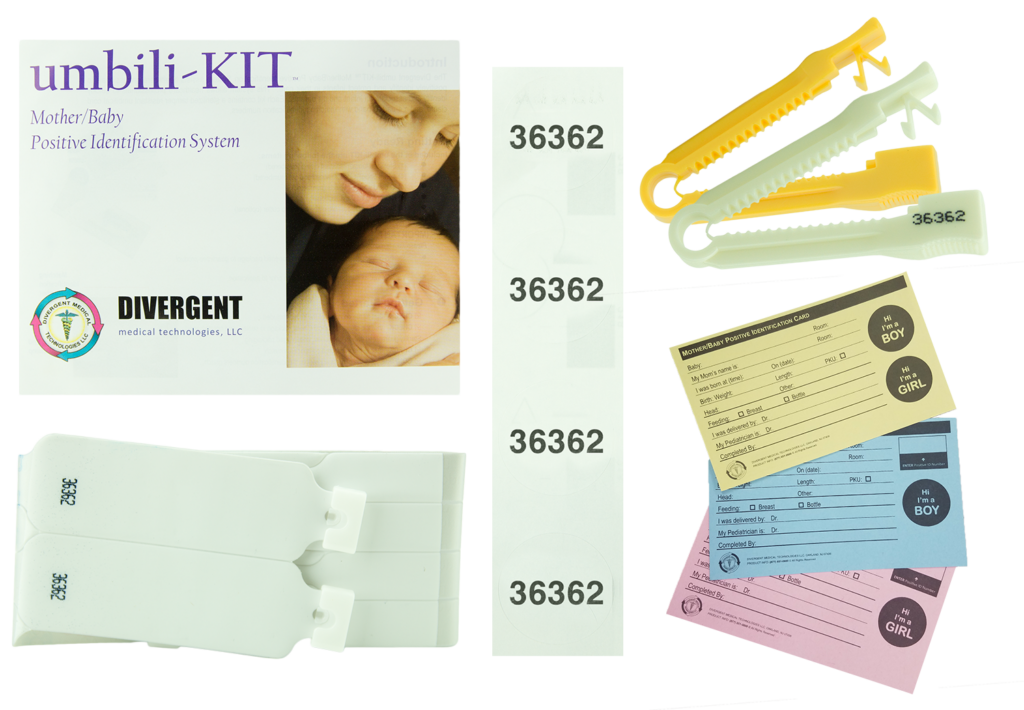 Baby switching / mismatching
It happens!…either inadvertently through a staff mistake or deliberately.  A newborn can be paired with the wrong birth mother.  Even the best-trained staff can make mistakes.  Reduce the clinical risks, emotional trauma to a new mother and potential health risks for an infant with Divergent's innovative mother/baby positive identification umbili-KIT.
Our Mother/Baby kits provide you with a simple, cost effective solution to meet the Joint Commission Patient Safety Goals of "improving the accuracy of patient identification and effectiveness of communication among caregivers".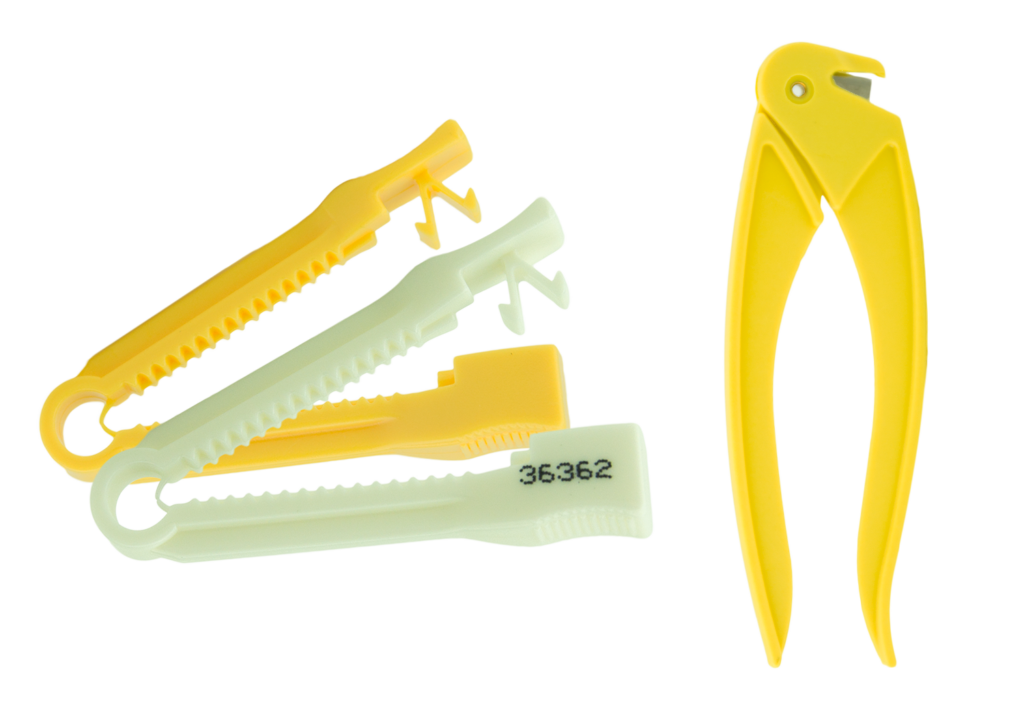 Labor and Delivery
Divergent has developed a comprehensive range of cost effective, innovative and convenient products for Labor and Delivery.  This includes the unique "tamper resistant" cord clamps and cord clamp cutters.  These devices provide superior value with such features as:
Both the clamp and cutters are sterilized

Patented devices

FDA registered

Latex, lead, and DEHP free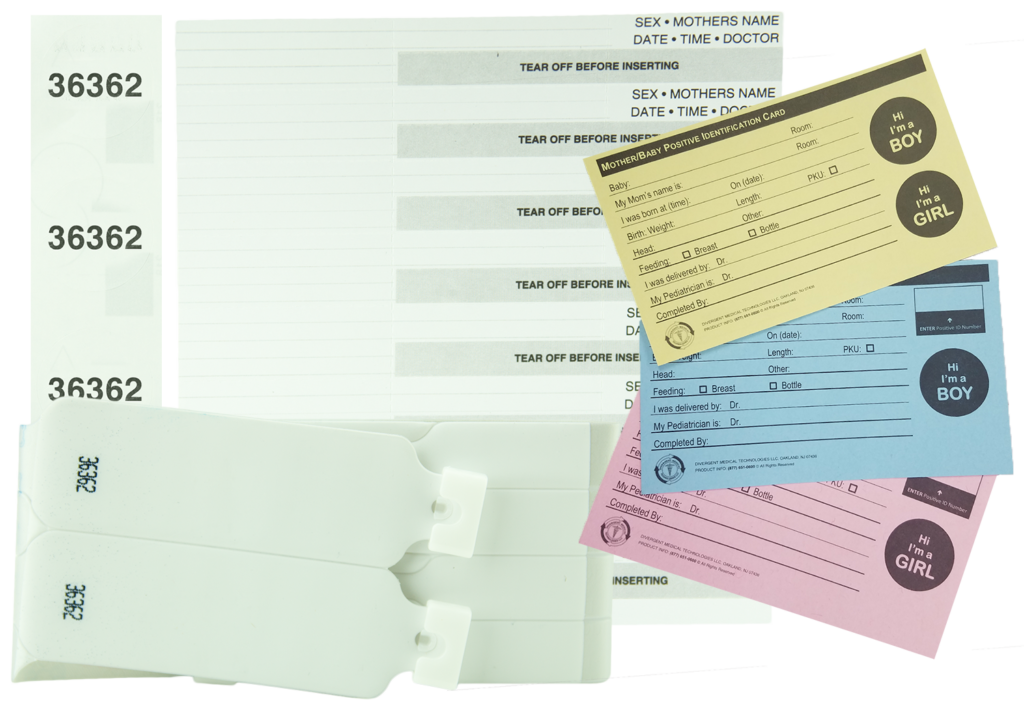 Visual Identity Solutions
Our range of identification products connects people, and technology through innovative ID solutions that deliver superior customer experiences. Our visual identification products assist in the delivery of safe and efficient patient care. They help providers to improve the safety and care of patients at critical points in the delivery of care.  Thus, improve clinical outcomes and enhance the overall patient experience. Our solutions also help organizations to improve operational efficiencies and financial performance, while maintaining compliance with important patient safety regulations.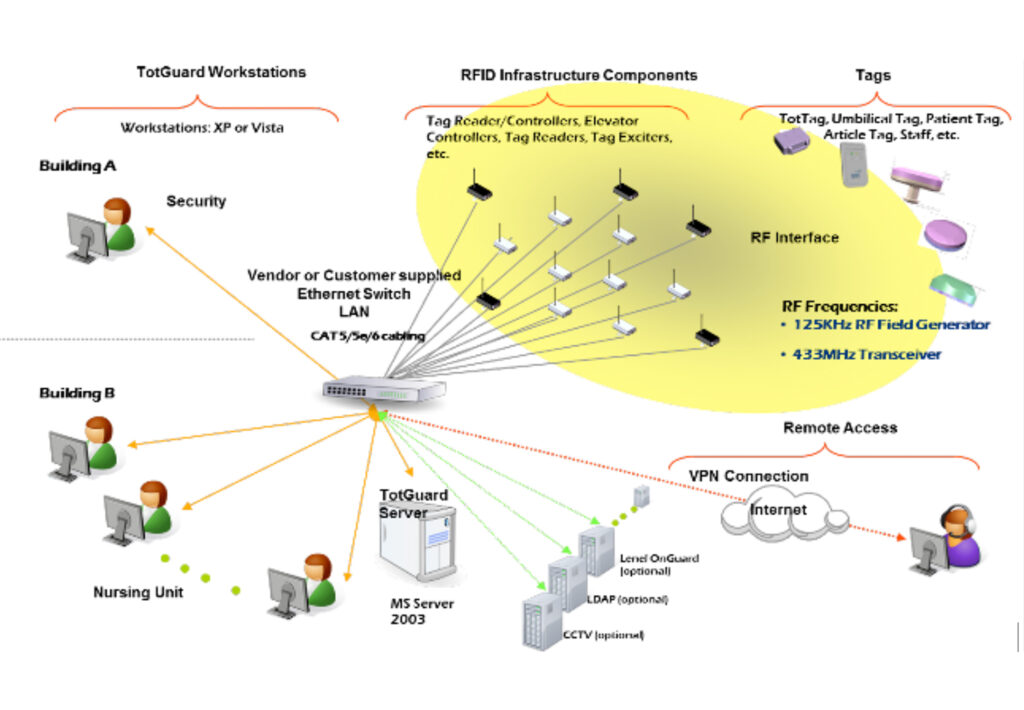 Infant Security Systems
We offer complete SOLUTIONS for Safety, Security and Real Time Location for the healthcare environment. GuardRFID's 'TotGuard' Infant security solution delivers unparalleled protection by offering a wide array of features and functionality unmatched by any other system. TotGuard is the only system that offers the choice of four types of infant tags – Umbilical, Tamper Sensing, Cut-Band, and a specially designed tag for NICU babies. Keeping end-users in mind, the tags are the smallest and lightest available, and are ergonomically designed to ensure the highest level of comfort for your smallest of patients. Two accurate location technologies – RTLS and Portal Detection – deliver a robust and reliable solution that enables accurate location, to the room level if desired, while also protecting and locating your precious patients, staff and equipment. The system also supports pediatric, wandering patient, staff location/duress and asset tracking all on one platform. 
Patient Handling System
We believe that enhanced, affordable patient handling technologies can improve patient care and provide a safer workplace for all clinical professionals.
Our breakthrough technology, the MuV Safe Patient Handling System, is designed to reduce strain on medical professionals and patients.  It is simple, sleek, clean and efficient like no other product in the industry today.
In recognition of its commitment to bringing the best technologies to the medical field, the product was recently named a bronze winner at the 2014 Medical Design Excellence Awards.
We engineer trusted technologies that are endorsed by nurses and physicians. We submit our products to rigorous testing and qualified research.